Sandi Tree's sand arrives in downtown West Palm Beach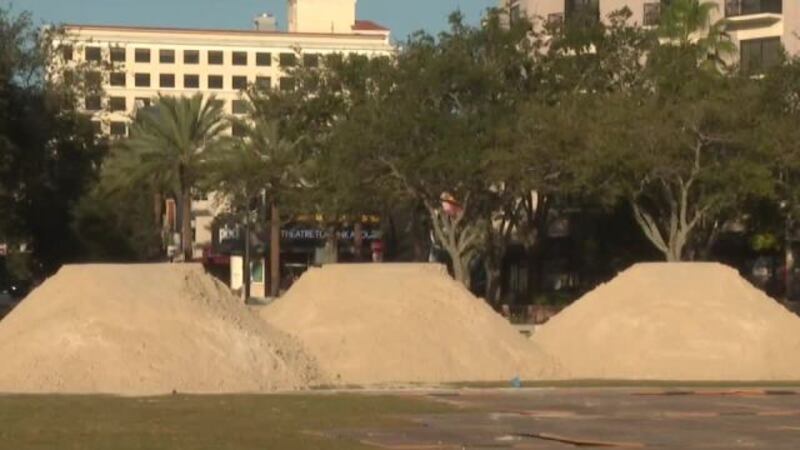 Published: Nov. 1, 2023 at 10:25 AM EDT
Truckloads of sand for Sandi Tree and the star of Holiday in Paradise arrived Wednesday morning in downtown West Palm Beach.
Over the next three to four days, eight to 10 trucks will unload a total of 850 tons of sand and disperse it on the great lawn. Prep included crews laying down large, wooden boards for the trucks to drive on.
Sandi will take the bulk of the sand, using 700 tons, 100 tons will be used to construct other sand sculptures along the waterfront and 50 tons will be used for a new installation called Paradise Island presented by Dunkin'. The new installation will be a sandbox with holiday and pirate-themed activities, the city of West Palm Beach said in a news release Tuesday.
The star of the city's Holiday in Paradise presented by FPL is returning with a new theme called Treasure West Palm Beach and will feature a pirate theme, the city said. The fable supporting this year's theme is while sailing the ocean sea on a pirate ship, Captain Pauly the Parrot sees the glittery lights of Sandi and Ferris from afar through his spyglass. His band of merry men send him to see what treasure awaits. When they all descend on Sandiland, they discover that the true riches of the holiday lie in celebrating with community, family, and friends, the city said in the release.
It will take about a month to sculpt Sandi and the surrounding sand sculptures.
Scripps Only Content 2023