Jason Aldean says he would only change 1 thing about 'Try That in a Small Town'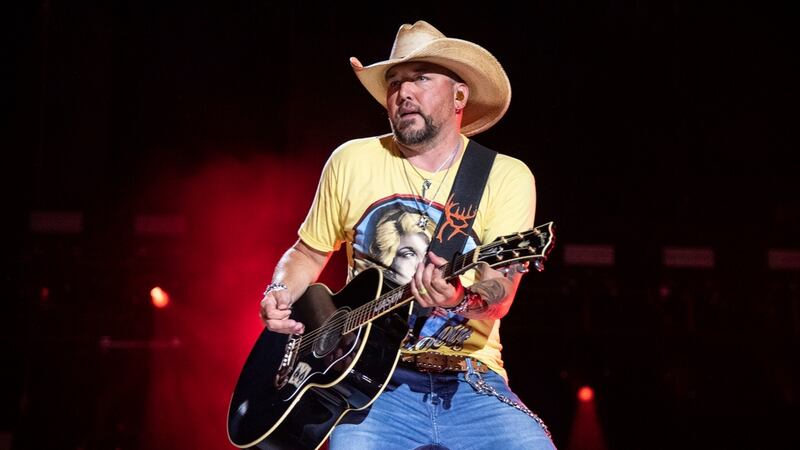 Published: Nov. 3, 2023 at 11:21 AM EDT
(Gray News) – Country music star Jason Aldean said following the backlash he received about his song "Try That in a Small Town," there's only one thing he would change if he could do it over.
In an interview with CBS News this week, Aldean said he would choose a different location for the music video, which was released in July.
The video was shot in front of Maury County Courthouse in Columbia, Tennessee, which is a site where a Black teenager was lynched in 1927.
However, Aldean said he was unaware that a lynching ever took place there.
"I also don't go back 100 years and check on the history of a place before we go shoot it either," he told CBS News. "It's also the place that I go get my car tags every year. It's my county that I live in."
Aldean said knowing what he knows now, he would look at filming the video elsewhere. However, he said other productions have filmed at that courthouse without pushback, and he also said it would be hard to find a courthouse in the South that "hasn't had some sort of racial issue over the years at some point."
Fans and supporters of the song say it's about honoring small town values, but critics say it's racist and promotes violence.
Controversial imagery and messages throughout the song and video include protests and riots in large cities, with Aldean saying that behavior wouldn't fly in small towns.
"Cuss out a cop, spit in his face / Stomp on the flag and light it up / Yeah, ya think you're tough / Well, try that in a small town / See how far ya make it down the road," the country star sings.
The music video is stocked with news footage from recent years, showing protests in big cities, American flags being burned, and attacks on police officers.
Aldean stands by his belief that the message has nothing to do with race, and the video doesn't point a finger at any specific group.
Amid the backlash, a short clip from a Black Lives Matter protest was edited out of the music video. Aldean's team claims the clip was used without permission and had to be taken out.
Following the criticism, CMT pulled the music video from its rotation in July, but Aldean came back to defend it.
The singer posted a message on his Instagram story and to his Twitter account, writing in part:
"In the past 24 hours I have been accused of releasing a pro-lynching song (a song that has been out since May) and was subject to the comparison that I (direct quote) was not too pleased with the nationwide BLM protests. These references are not only meritless, but dangerous. There is not a single lyric in the song that references race or points to it- and there isn't a single video clip that isn't real news footage -and while I can try and respect others to have their own interpretation of a song with music- this one goes too far."
Other than the choice of location, Aldean said he stands behind his song and its music video.
"I would do it over again, every time ... minus the setting, knowing what I know now," he said in the interview with CBS News.
"Try That in a Small Town" hit No. 1 on the Billboard Hot 100 for one week over the summer while the song was consistently making headlines.
Copyright 2023 Gray Media Group, Inc. All rights reserved.