Ghostbusters are back in new 'Frozen Empire' trailer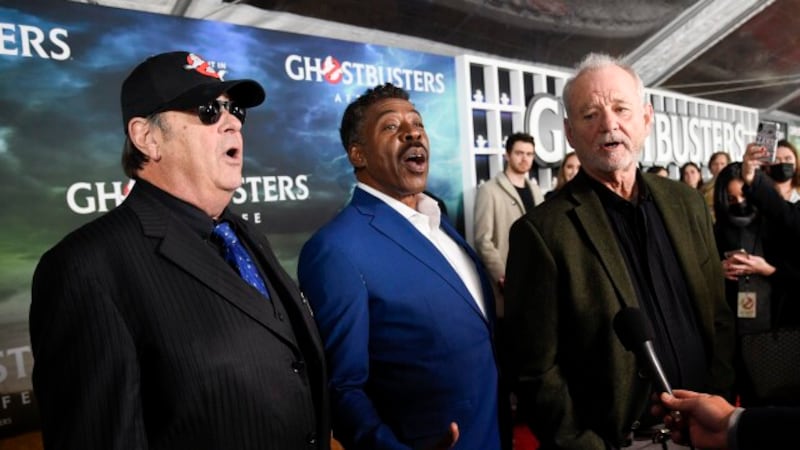 Published: Nov. 8, 2023 at 12:35 PM EST
Just like Bobby Brown sang on the soundtrack to the 1989 sequel, the Ghostbusters are back.
The new trailer for "Ghostbusters: Frozen Empire" was released Wednesday.
It's the fourth sequel in the "Ghostbusters" franchise, which began in 1984 with the Ivan Reitman-directed surprise box-office hit.
Reitman and the original cast – Bill Murray, Dan Aykroyd, Harold Ramis, Ernie Hudson, Sigourney Weaver, Rick Moranis and Annie Potts – returned for "Ghostbusters II" in 1989, but a long-rumored third film seemed to languish and appeared to be all but dead (pun intended) when Ramis died in 2014.
But a third "Ghostbusters" film was finally announced in 2019, with Reitman's son, Jason Reitman, tapped to direct.
"Ghostbusters: Afterlife" opened in 2021, starring Paul Rudd, Carrie Coon, Finn Wolfhard and Mckenna Grace. Most of the surviving original cast returned in smaller roles, except for Moranis, who has since retired from acting.
Ivan Reitman, who produced "Afterlife," died in 2022.
Fans of the franchise will recall the ending of "Afterlife" set the stage for the story to continue.
Unlike "Afterlife," which was set in Oklahoma, "Frozen Empire" brings the Ghostbusters back to New York City, where the first two films took place.
Murray, Aykroyd and Hudson are featured in the "Frozen Empire" trailer. Missing from the trailer are Weaver and Potts.
Although Potts didn't appear in the trailer, Hudson seemingly confirmed her return during an April interview.
"It's great to be back with, you know, Danny and Bill and Annie Potts and the new cast," Hudson told Rohan Patel of the Film Collective.
Gil Kenan, who co-wrote "Afterlife" with Jason Reitman, serves as director of "Frozen Empire."
This will be the first time someone other than a Reitman directs a "Ghostbusters" film (excluding the 2016 Paul Feig-directed all-female remake).
"Ghostbusters: Frozen Empire" is scheduled to be released on March 29, 2024.
Scripps Only Content 2023