FAU extends interim president Stacy Volnick's term through next year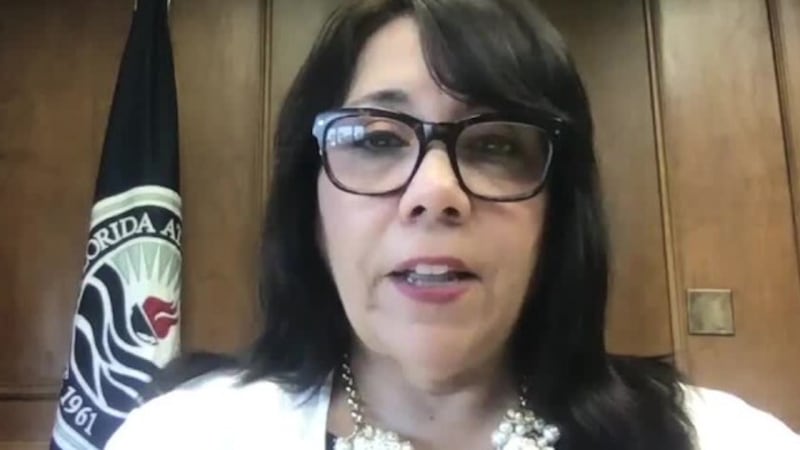 Published: Nov. 14, 2023 at 5:05 PM EST
The Florida Atlantic University Board of Trustees on Tuesday extended Stacy Volnick's term as the school's interim president to the end of the 2024 calendar year or unless a permanent president is hired sooner.
Stacy Volnick, who has received bachelor's, master's and doctorate degrees from the university, has served as interim president since January and has been with the school since 1991. She is 59 years old.
"President Volnick has done an exemplary job," FAU Board of Trustees Chairman Brad Levine said in a news release. "I am proud of what she has achieved and how gracefully she has guided the university, which is why I gave her the highest review rating allowed."
In July, the presidential search for Florida Atlantic University was suspended just days after the university announced its three finalists for the top job.
State University System of Florida Chancellor Ray Rodrigues wrote to Levine, citing "anomalies that have been alleged in the Florida Atlantic University presidential search."
The letter said Rodrigues' office "received concerning information" regarding the presidential search, including that search committee members conducted a straw poll to rank their six preferred candidates out of a list of nearly 60.
The letter also stated that one candidate said a questionnaire asked if his sexual orientation is "queer" and whether he was "male or transgender male," and that another survey asked whether his gender is "male, female or other" and what his "preferred pronouns were."
The candidate who was asked about his sexual orientation and preferred pronouns was not identified in the letter.
Those finalists are Vice Adm. Sean Buck, superintendent of the United States Naval Academy; Michael Hartline, Ph.D., dean of the College of Business at Florida State University; and Jose Sartarelli, Ph.D., former chancellor of the University of North Carolina Wilmington.
In 2013, Volnick became vice president for administrative affairs and chief administrative officer, and more recently, she was promoted to chief operating officer.
She earned a doctorate and master's degree in educational leadership from FAU's College of Education, as well as a bachelor's degree in communication from the Dorothy F. Schmidt College of Arts and Letters. For her doctoral dissertation, she addressed the challenges facing women college presidents.
"I am honored to be recognized by the board for my performance," Volnick said. "I look forward to working with the trustees, faculty, staff and students to push Florida Atlantic's continued progress to new heights."
The FAU men's basketball team made its historic run to the Final Four of the NCAA Tournament in April. Also, the university rose in several important rankings and welcomed one of the largest incoming freshman classes in its history of 4,300 students.
The number of undergraduate enrollment is more than 23,000 and graduate enrollment is more than 4,700. Th main campus is in Boca Raton with other locations in Jupiter, Davie, Fort Lauderdale, Harbor Branch, Dania Beach.
Scripps Only Content 2023