Final hurdle awaits Wellington equestrian development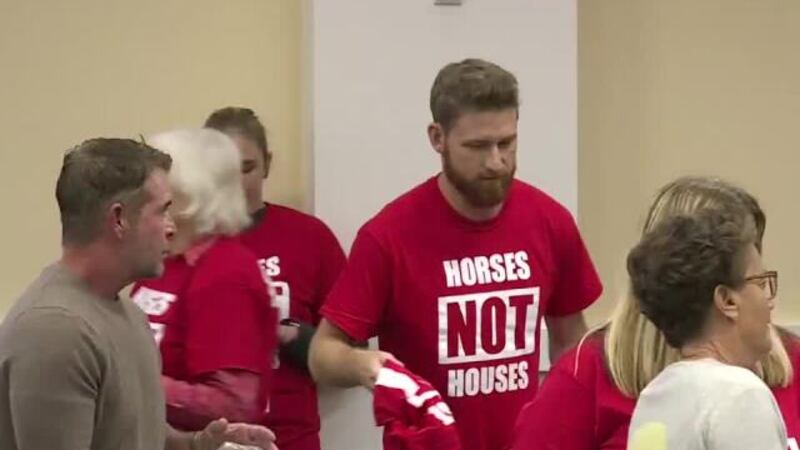 Published: Nov. 14, 2023 at 6:16 PM EST
After months of consideration and discussion, the Wellington Lifestyle Partners proposal to rezone parts of the Equestrian Preserve into residential properties is finally heading to a final vote with public comments Tuesday and two others scheduled this week.
Residents, wearing red shirts that read "Horses not homes," are upset with the proposal to turn the current equestrian showgrounds into a houses with a driving range and a new venue with a stadium.
Enough people turned out to fill the the council chambers and an overflow room. Also there were protesters holding signs outside.
"I still have nightmares about where I'm going to put my horses," one resident told the members.
The proposal wasn't voted upon Tuesday night with meetings scheduled Wednesday and Thursday to accommodate public comments.
"That's why we've allocated three days in the event we need all three days, and that's not to say we won't need more," village Manager Jim Barnes said.
Developers say they have changed the plan about 15 times based on feedback.
In a video posted on their website, Wellington Lifestyle Partners stated that they have listened and learned from the feedback and criticism of their plan. A north component of the proposal includes a golf community while a south component includes expanded equestrian facilities and grounds.
"Throughout this application process, we have strived to engage with the community and respond to feedback," Paige Bellissimo Nunez, the executive vice president of Wellington Lifestyle Partners, said. "We have greatly modified our applications."
Wellington Lifestyle Partners is seeking to solidify the village's position as an equestrian center with a projected 50 additional acres for showgrounds over what exists now.
Some of the public input has centered on concerns over new development and traffic in the village.
"I don't know how good it is for all the people in Wellington, but for the equestrian people, it's very good," Wellington resident Janet Kozzi, who admits she is now an equestrian person, said.
Scripps Only Content 2023