Israeli soldier held hostage confirmed dead; mom visited Palm Beach County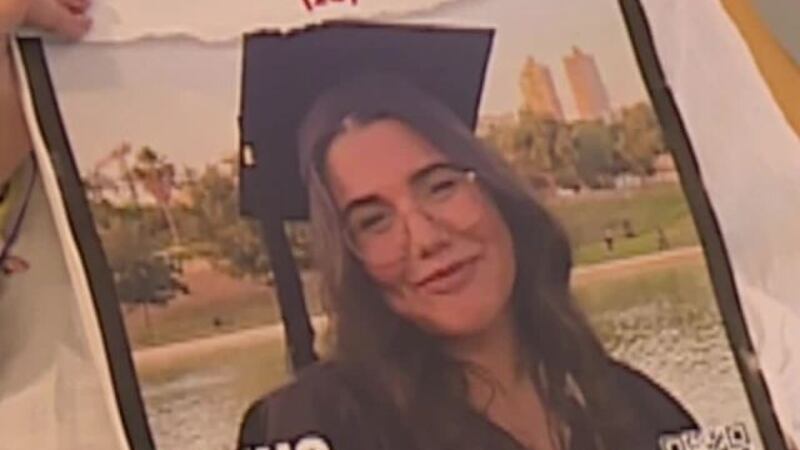 Published: Nov. 14, 2023 at 6:15 PM EST
A 19-year-old Israeli soldier abducted by Hamas was confirmed as killed, 10 days after her mother came to West Palm Beach from the Jewish state to plead for her release.
On Tuesday, Israel Defense Force Noa Marciano announced she was listed as a "fallen soldier held captive by a terror group."
"She was promoted from private to corporal posthumously," the IDF said as it posted her name on the website of fallen soldiers, adding it had notified her family.
IDF spokesperson Rear Adm. Daniel Hagari confirmed her death during a briefing.
"We notified the family of IDF fallen soldier Noa Marziano," IDF spokesperson Rear Adm. Daniel Hagari said during a briefing. "May her memory be a blessing. She was kidnapped by the Hamas terror organization.
Hamas is holding about 240 people hostage since Israel was attacked Oct. 7.
"To the families of the hostages, I wish to say: we are working together with all the relevant bodies in all possible ways, operational, intelligence, and civilian, to bring your loved ones home." Hagari said. "We will leave no stone unturned, we will miss no opportunity to bring them home. We have a deep commitment to their safety and to return the hostages home.
Marciano was of Modi'in, a city southeast of Tel Aviv and northwest of Jerusalem in Israel.
On Monday, Marciano was displayed in a video released by the Qassam Brigades, Hamas' military wing. In it, she appeared before the camera where she mentions the name of her parents and the bombings in Gaza.
The New York Times on Tuesday reported a 19-year-old Israeli soldier had been killed by Israeli airstrikes Thursday.
On Nov. 4, her mother, Adi Marciano, spoke to WFLX in West Palm Beach.
She displayed a poster bearing the face of her daughter.
"I want to keep her safe," Marciano said. "I don't know what else can I do."
The Jewish Federation of Palm Beach County was assisting in Marciano telling her story.
"We are devastated to learn of the horrific murder of Noa at the hands of Hamas terrorists just days after her mother Adi showed such strength speaking to our community.," the federation said in a statement Tuesday. "Every day we dedicate our work to honoring Noa and other victims of the October 7 attacks. We advocate for the safe release of hostages and for a more secure community here at home. We care for the millions in Israel traumatized by these horrible attacks. We educate on the consequences of hatred in hopes of creating a more just and civil world. Our hearts are with her mother and her whole family. May Noa's memory be for a blessing."
During the Hamas invasion on Oct. 7, she told WPTV she was on the phone with her daughter, who was living in a community at the edge of the Gaza Strip.
"She said, 'Everybody's now fighting outside.' I heard some rockets, you know. I heard some girls scream," Marciano said, recounting that day. "And she said, 'Mom, I need to be quiet now and I need to hang up the phone.' She (hung) up the phone. There's no time for me to say I love her."
A week later, Marciano said, a Hamas telegram showed a picture of Noa in handcuffs, looking afraid but strong.
She heard nothing since.
"Maybe they have one woman like me that now is, you know, with my Noa," Marciano said. "And maybe there are some people that are good there that will keep them well in health and let them come home."
At the time she was still hopeful.
"In my heart, I feel that she is alive," this worried but hopeful mother said. "So when I see a picture of her, she says to me, 'Mom, everything will be OK and I will come back home, and I [will] tell you all the things I've been through.'"
Scripps Only Content 2023