Vero Beach still waiting to repair boardwalks year after Hurricane Nicole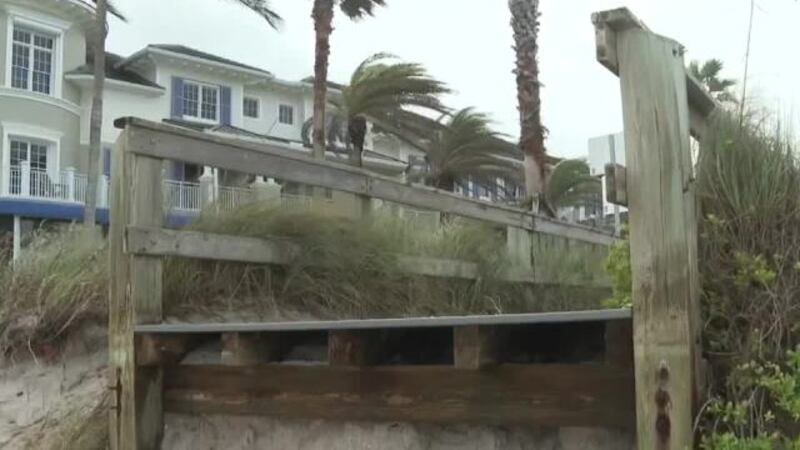 Published: Nov. 14, 2023 at 5:55 PM EST
While Palm Beach County and the Treasure Coast may see some tropical downpours this week, it was a year ago when the area was dealing with a real tropical system.
Hurricane Nicole made landfall in Vero Beach, and the city still has the scars to prove it.
In Heather Reeb's phone is a picture she took with her two boys last November.
"We have a tradition before the hurricane comes, after we finished everything at the house, we come down to the boardwalk and take a picture," Reeb said.
That picture is of the Humiston Beach boardwalk, which was condemned and demolished after Nicole.
"It was a bummer to realize that here we are a year later and we still don't have our boardwalk back," Reeb said.
The city said right now, its hands are tied. They're waiting on the federal government.
"What we're dealing with to make the final repairs is FEMA," City Manager Monte Falls said.
Falls said they have submitted two plans to the Federal Emergency Management Agency: Replacing the boardwalk at a cost of $2 million, or installing an elevated sidewalk a bit inland so people can still look out over the water. That would cost around $700,000.
"We realize they are amenities the public likes. We want them built back as soon as possible," Falls said. "But we want to do it in as responsible a way as we can for our tax payers."
There was also damage to the Conn Beach Boardwalk, and while there are still some roadblocks in place, the public can access it, and the beach.
Beach nourishment projects cost about $250,000. A long term solution by installing a seawall could cost $10 million.
"A project like this is a huge hit to our budget," Falls said. "So, we want to make sure we can get all the funds we can get from the state and the feds to make these repairs."
From his perch at the Citrus Grillhouse overlooking the ocean, long-time resident Kenney Christman said he'd like some beach work done sooner rather than later.
"It's embarrassing that people come here from all over the country and they look at this," Christman said, pointing to the missing boardwalk.
The city will know early next year what kind of money they'll get from FEMA, and what the next steps will be.
Scripps Only Content 2023