Jupiter officers honored for stopping potential mass shooter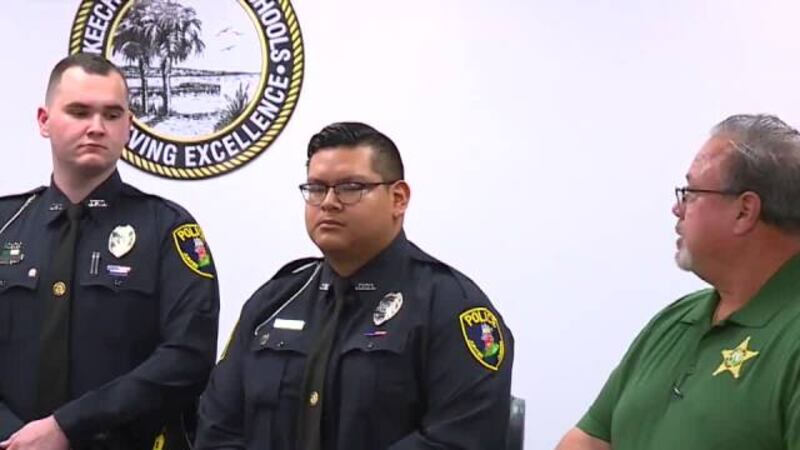 Published: Nov. 14, 2023 at 11:40 PM EST
Two Jupiter police officers on Tuesday were awarded Guardian of the Community awards at the Okeechobee County School Board meeting for stopping a potential mass shooter.
"Nothing we can do or say can thank these gentlemen for what they've done for our No. 1 asset, which is our children," Okeechobee County Sheriff Noel Stephen said during the ceremony. "(They) went above and beyond the call of duty and deter a tragedy from happening within our jurisdiction."
Kevin Salas-Lopez and Christian Wyatt arrested 19-year-old Henry Horton IV last month after they found handwritten letters threatening a mass shooting at Okeechobee High School and a stabbing spree at a Miami church.
Horton graduated from Okeechobee High School in May 2022. He was planning to execute his attack on his 22nd birthday, which is Jan. 2, 2026, according to the arrest report.
Wyatt has been with the department for 2.5 years, and Salas-Lopez for a year and a month. "It means I did my job correctly and I did it the best of my ability, and it's definitely an honor and something that doesn't happen every single day," Wyatt said.
"Would you call yourself a hero?" WFLX reporter Joel Lopez asked.
"No, not at all," answered Salas-Lopez. "Something triggered in me, made my officer instincts telling me somethings wrong here, this is not going to be a normal traffic stop."
Salas-Lopez, a road patrol officer, pulled Horton IV over and asked if he planned to carry out those threats.
"I asked him 'were you planning on doing X, Y, Z incidents, the school shooting' and he said yes, 100%," Salas-Lopez said. They say Horton was calm and cooperated with the officers.
"I don't think Henry would have hurt anybody but absolutely law enforcement has to take every threat seriously," Horton IV's mother, Marcie Horton, said.
She said her son is still behind bars, awaiting a mental health evaluation.
"For you as a parent what would you like to see for your son right now?" Lopez asked.
"I would like to see for him to get the help he needs, I want him to see a therapist or just to get his medicine straight," Horton said. "In my opinion he's still unstable. He's unstable as the day he went in there."
She said her son calls her daily.
"What does he talk about?" Lopez asked.
"How he wants to come home,. How he didn't mean any of it. He's fully remorseful," Horton said. "I'm scared, I'm depressed. I'm anxious. There's a lot of things going through his head."
Horton said her son has autism and the written letters were an outlet for his thoughts, without realizing the repercussions it could bring.
She said her son is awaiting legal representation and had no comment to the officers being honored at the school board meeting.
"I stopped him not only to get him off the streets but if he does need mental help at least we can help him with that as well," Salas-Lopez said.
The investigation is ongoing.
The next court date for her son is Jan. 10.
Scripps Only Content 2023