Literacy advocate on TikTok removed from The Breakers as guest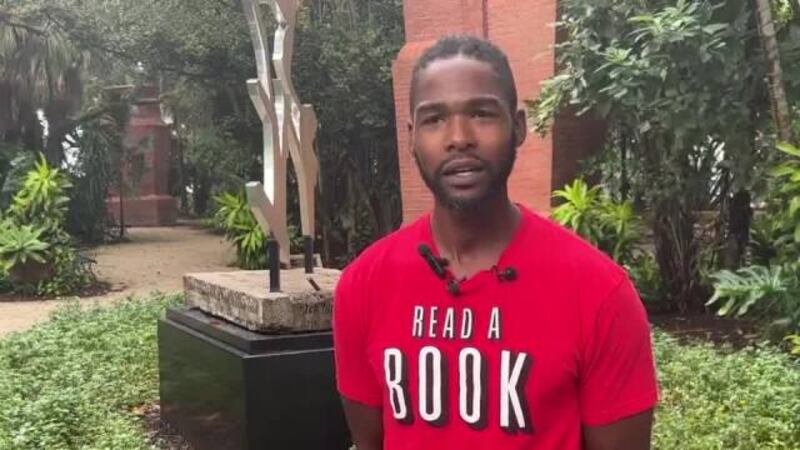 Published: Nov. 14, 2023 at 7:30 PM EST
Oliver James, a national literacy advocate and social media influencer, has questions for The Breakers resort staff after he was kicked off the property where he was staying as a guest.
He rose to popularity on Tik Tok and Instagram by talking about his struggle with adult literacy in front of a live audience. On Monday, he faced a different struggle during his stay at The Breakers on Palm Beach.
"I was kicked out of the establishment and I don't understand that," James said.
The incident was caught on camera as James was prepping to read to his audience on social media. It didn't stop James from showing up to the Barbara Bush Foundation for Family Literacy event at the Ann Norton Sculpture Garden on Tuesday.
"This is something that takes effort and he talks very openly about how he's had to try hard and I hope there's probably a couple kids here who are also having to try hard to build those literacy skills and I hope it's motivational to them," Andrew Roberts, CEO of the Barbara Bush Foundation for Family Literacy, said.
James is still passionate about kids and reading but also concerned about why he was kicked out of The Breakers.
When asked directly, James said he believes the exchange was racially motivated.
"100%. I'm not gonna sugarcoat it 100%," he said. "Why would you walk directly up to me. There's thousands of people in this."
WFLX reached out to The Breakers staff for clarification. They replied with a statement indicating a combination of his tripod use, volume and failure to identify himself led to him being asked to leave. The Breakers added, "they unequivocally deny any allegation of discrimination."
James applauded the way Palm Beach police handled things and said his literacy helped him handle the situation with grace.
"The only reason you got this person you got right now is because I started teaching myself how to read before this," James said. "It would've been fights and yelling and screaming and tearing the place up but I educated myself and I learned how to cope with my emotions."
He has spoken about his learning disabilities and spending time in a federal prison in his 20s.
Jame said he hopes kids can find the same power in books and develop a shared love of reading.
He was invited to Palm Beach County by the Barbara Bush Foundation for Family Literacy to participate in Literacy Day at the Ann Norton Sculpture Gardens where he read to more than 200 local Title 1 students.
Scripps Only Content 2023