No. 10 Owls crush Eastern Michigan in home opener
FAU wins 100-57, extending nation's second-longest home streak to 19 games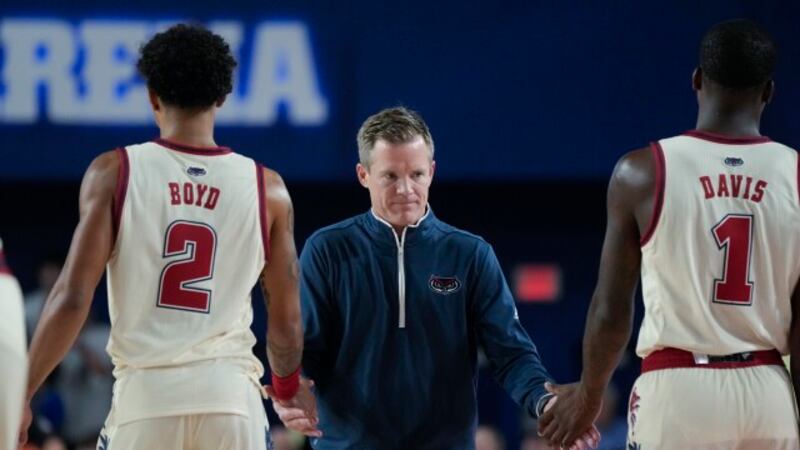 Published: Nov. 14, 2023 at 9:50 PM EST
Vladislav Goldin scored 19 points, Brandon Weatherspoon added 16 while not missing a shot, and No. 10 Florida Atlantic eased past Eastern Michigan 100-57 on Tuesday night.
Some students started lining up Monday night outside Florida Atlantic's arena, arriving almost 24 hours before game time to get their choice of seat. They remembered all the chants and waves, sang along with Miley Cyrus' "Party in the U.S.A." and tried to mob players in celebration when the night was over.
It's a new season. But the vibe from last year's Final Four run lives on in Boca Raton.
Vladislav Goldin scored 19 points, Brandon Weatherspoon made all six of his shots to finish with 16 points and No. 10 Florida Atlantic eased past Eastern Michigan 100-57 on Tuesday night.
"It was awesome to see the guys and ladies camped out and for this to be a big deal," said Owls coach Dusty May, who brought those students camping overnight doughnuts and T-shirts Tuesday morning to thank them for the commitment. "Our guys deserve for this to be a big deal."
Giancarlo Rosado and Brenen Lorient each scored 13 points for the Owls (2-0), who were playing for the first time with last season's Final Four banner swaying over the court. FAU extended the nation's second-longest home winning streak to 19 games and shot 63% on the way to finishing with six players in double figures.
Only UCLA has a longer current home streak than the Owls. The Bruins — winners of 27 straight at Pauley Pavilion — host Long Island University on Wednesday. FAU broke a tie with Liberty and UMass-Lowell, both winners of 18 in a row at home.
"My freshman year, we had 400, maybe 500 people here," Rosado said. "To see it sold out ... it's a blessing."
Tyson Acuff scored 20 points and Legend Geeter added 13 for Eastern Michigan (1-2), which gave up a 12-0 run in each half. The Eagles fell to 0-26 against Top 10 teams and 3-49 in their Division I era against teams ranked in the AP Top 25. They haven't beaten a ranked team since topping then-No. 22 Michigan 89-83 on Dec. 17, 1997.
This one was over early — FAU got an alley-oop dunk from Goldin 6 seconds after he won the opening tip, and the Owls started 8 of 9 from the field on the way to a 20-5 lead just 5:13 into the contest. The lead 51-28 at the break, the outcome decided.
Eastern Michigan, through eight minutes, had one fewer point (11) than FAU had assists (12). The Eagles didn't get back-to-back shots to fall until early in the second half.
"Wouldn't surprise me if they go back to the Final Four," Eastern Michigan coach Stan Heath said of the Owls. "That's a well-rounded team. Really shoot it well, pass it well, play extremely hard on both ends of the court."
The home opener drew the biggest crowd in FAU history — 3,161 fans filling the small arena that, for now, doubles as the program's practice facility.
Associated Press 2023