Shark attack leaves man's arm looking like 'a Halloween prop'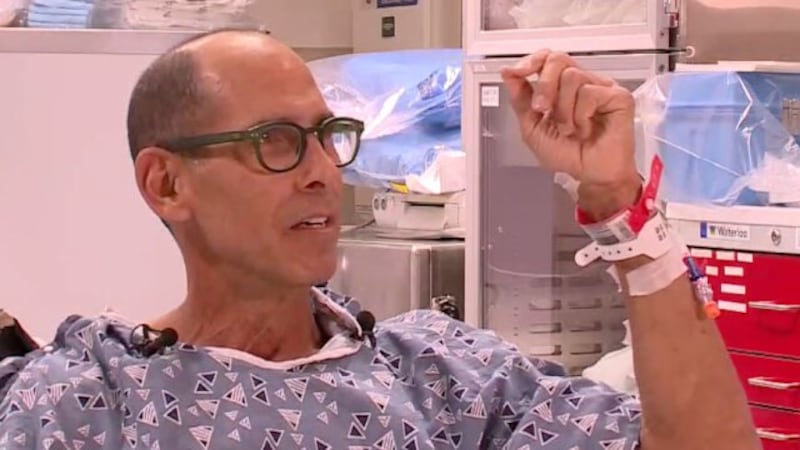 Published: Nov. 15, 2023 at 2:55 PM EST
A Palm Beach Gardens man is expected to make a full recovery after he was bitten by a shark off of Juno Beach earlier this month.
Steven Reinhardt, who said he's in his 60s, trains regularly as an MMA fighter, running and swimming near the Juno Beach area.
Reinhardt said he was about 100 yards offshore when he was bitten in the arm by a shark on Nov. 5 at about 10:30 a.m. He said he thinks the shark could have possibly been a bull shark.
He and his doctors at St. Mary's Medical Center spoke Wednesday about the incident.
"I never thought I'd get bit," he said. "I grew up in Florida. I've been doing this for 30 years, at least."
They said he was saved thanks to the quick thinking of a woman who happened to be onshore and able to make a tourniquet.
"It just felt something hit my arm and thrash it," Reinhardt said. "I lifted my arm up and it looked like a Halloween prop. I could see the muscles hanging and blood and the bone and I thought, 'Oh man,' so I said I just got to get into shore before I bleed out, so I just kept my arm out of the water and swam for shore."
Despite the bite missing any major arteries, the injuries were so severe that he thought he was going to lose his arm.
Trauma surgeon Dr. Matthew Ramseyer said this is the third shark bite that he has treated in the last seven years.
"This is the worst shark bite that I've managed myself," Ramseyer said.
Reinhardt was able to meet some of the paramedics who responded to the call as well as thank the woman who made the initial 911 call that helped save his life.
Paramedic Gordon Wilson with Palm Beach County Fire Rescue, who previously survived a shark attack himself about 25 years ago, helped treat the man's wounds at the scene.
"I have a vested interest in this subject because I've been through it," Wilson said. "That's one of the worst ones I've seen, definitely."
Palm Beach County Fire Rescue said if the water is too murky or if you see an abundance of bait fish, it's probably a sign that you should stay out of the water to help avoid being bitten by a shark.
"Aside from managing lacerations, and then requiring some closure of the wounds with skin grafting, his recovery has been very speedy," Ramseyer said.
Reinhardt was released from the hospital on Wednesday.
"I'm the luckiest guy," Reinhardt said. "I feel really lucky, super lucky."
Scripps Only Content 2023