Bill would strip financial aid from students deemed 'terrorist sympathizers'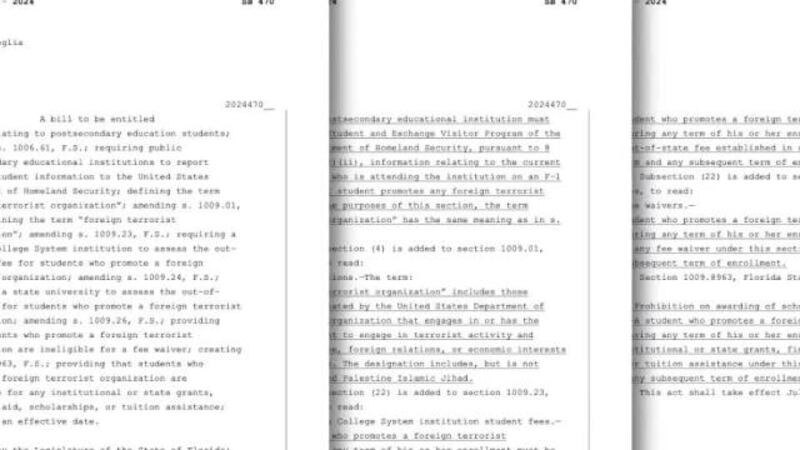 Published: Nov. 16, 2023 at 6:15 PM EST
A new bill from state lawmakers seeks to strip Florida college students deemed "terrorist sympathizers" of financial aid and more. Supporters of the bill said they're fighting antisemitism while critics consider it a clear violation of free speech.
State Sen. Blaise Ingoglia, R-Spring Hill, is backing the upper chamber's version of the SB 470 next year.
It would strip Florida's students of state grants, scholarships or tuition assistance if they "promote a foreign terrorist organization" while enrolled. Those using student visas could also get flagged for federal review by Homeland Security.
Ingoglia and his House co-sponsor, state Rep. John Temple, R-Wildwood, are offering the legislation following multiple pro-Palestine protests across the Sunshine State. Many have happened at Florida colleges and universities.
While most of the rallies were peaceful, it's on those campuses the lawmakers have been concerned about calls for violence against Israel and support for Hamas, the military group that attacked Israeli civilians more than a month ago.
"The state of Florida taxpayers, we should not be asking them to subsidize people who are terrorist sympathizers looking to wipe out the state of Israel," Ingoglia said.
The policy is only three pages long and hinges on the definition of "promote," which Ingoglia believed was self-evident.
"I think it's sort of obvious," he said. "We can always clarify things. … but let me be clear on this ... if this bill passes into law, I dare anyone to file a lawsuit on this, saying that it's OK to give material support to a terrorist organization in the United States. Please do it. We'll know who you are."
The legislation drew immediate fire from some Democrats. State Rep. Anna Eskamani, D-Orlando, questioned its need in a social media post.
"Instead of addressing issues like property insurance, the Florida Legislature will be targeting students who they say are promoting terrorism," Eskamani wrote on X. "Meanwhile actual domestic terrorists will continue to access assault weapons."
The head of Florida's chapter of the Council on American-Islamic Relations also weighed in. Abdullah Jaber told us Thursday the bill was "right out of Joe McCarthy's playbook." The language, he believed, was too broad, and he worried approval could chill free speech.
"As Americans, we have the right to criticize our own government, and even more so, foreign governments," Jaber said. "And criticizing the state of Israel as an occupation — an illegal occupation — is not beyond our freedom of speech."
The Legislature will now consider the bill. They gavel in for the regular lawmaking session on Jan. 9. If approved and signed by the governor, its provisions take effect next July.
Scripps Only Content 2023