IMAGES: Impacts of powerful wind gusts in South Florida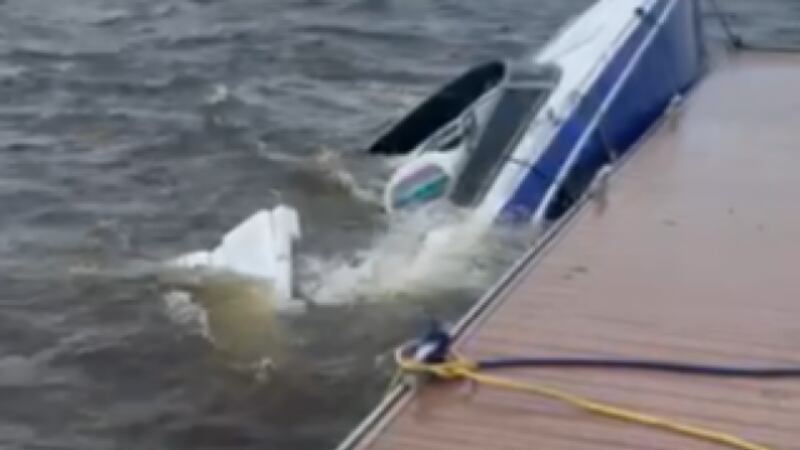 Published: Nov. 16, 2023 at 4:45 AM EST
As tropical storm-force winds hit South Florida and the Treasure Coast on Thursday, WPTV is compiling images from across our region of impacts from the rough weather.
11:30 a.m.
WFLX journalist Kate Hussey reports from the Jensen Beach Causeway, where many boats have broken loose of their moorings and slammed into a seawall, damaging the vessels.
11:00 a.m.
WFLX journalist T.A. Walker interviewed the owner of the North Pole Christmas tree farm at U.S. 1 and Donald Ross Road in Juno Beach, where strong winds toppled tents late Wednesday into Thursday.
"There's definitely damaged trees that I'm gonna have to dispose of," the owner said. "It's tough, but we stay strong and get through it."
10:08 a.m.
Heading south to Miami-Dade County, aerial video shows a large tent collapsed in downtown Miami, right across Biscayne Boulevard from the Adrienne Arsht Center for the Performing Arts.
9:20 a.m.
More trouble on the water. A boat sinks in the Intracoastal Waterway behind the Casa Del Mar community off Federal Highway, just north of Gateway Boulevard in Boynton Beach.
9:17 a.m.
A boat comes loose near the Jensen Beach Causeway. Rough waves overtook a marina there, sending the vessel crashing into a seawall.
8:48 a.m.
A large palm tree has crashed to the ground in front of a home at Hawthorne Drive and 3rd Street in Lake Park and is blocking part of the road.
8:40 a.m.
Strong winds knocked over tables, chairs, and umbrellas outside a BurgerFi restaurant on Atlantic Avenue near Florida's Turnpike in west Delray Beach, and power is out in the plaza.
7:59 a.m.
Several tents are damaged at a Christmas tree farm in the area of U.S. 1 and Donald Ross Road in Juno Beach.
7:29 a.m.
The winds were so strong on Thursday, they damaged this trampoline and tossed it onto the sidewalk of Congress Avenue in West Palm Beach.
7 a.m.
WPTV Weather Spotter Teresa O'Neil took this photo of a royal poinciana tree down in her driveway in Boca Raton, east of Florida Atlantic University.
6:36 a.m.
As daylight broke, our WPTV news crew captured large swells along the coast in Delray Beach, right at A1A and Atlantic Avenue.
Earlier on Thursday, the peak wind gust in this area was 42 miles per hour. But as of 6:30 a.m., wind gusts are now averaging less than 20 miles per hour.
Big waves along Delray Beach coast
6:35 a.m.
The morning commute is looking rain-free on Interstate 95 in West Palm Beach. The side streets, however, are cluttered with palm fronds and other debris, but no flooding.
5:40 a.m.
Patio furniture was knocked over at Sailfish Marina in Stuart. But thankfully, there doesn't appear to be any damage to boats that are securely tied down at the marina.
WPTV journalist Briana Nespral said big waves were making the boats rock back and forth.
No damage to boats at Sailfish Marina in Stuart
5:10 a.m.
According to Florida Power and Light, there are more than 30,000 power outages in Palm Beach County on Thursday morning.
There are roughly 300 outages in Martin County, 150 in St. Lucie County, 140 in Indian River County, and none reported in Okeechobee County.
You can get the latest power outage information by clicking here.
5:09 a.m.
Strong wind gusts caused construction equipment like metal poles, fences, and barriers to topple over in downtown West Palm Beach on Thursday morning.
4:40 a.m.
Winds gusts over 30 miles per hour were recorded at A1A and Atlantic Avenue in Delray Beach, with tables and chairs toppled over. WPTV journalist T.A. Walker reports.
3:15 a.m.
Palm fronds are down across our area with sustained winds of 25 to 40 miles per hour, according to the National Weather Service. This image shows a frond down in the Canyon Trails community of west Boynton Beach.
Scripps Only Content 2023