Winds were 'probably worse than the last hurricane,' resident says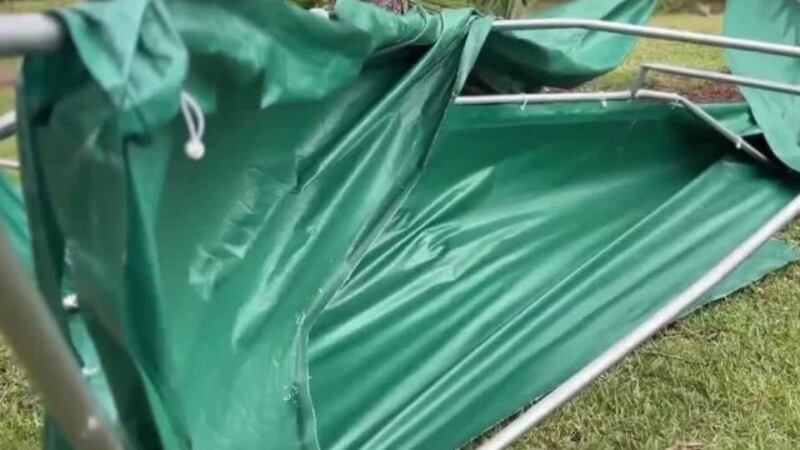 Published: Nov. 16, 2023 at 4:30 PM EST
Cleanup was underway in Palm Beach County's western communities Thursday as residents described waking up to loud noises overnight.
Roy Spencer, who lives in the La Mancha neighborhood of Royal Palm Beach, said the winds threw cinder blocks holding down his tent. He said he was surprised the wind could pick up the weight of them.
"I'd say [the cinder blocks weigh] around 35 to 40 pounds," Spencer said.
WFLX First Alert Weather meteorologists clocked the highest wind gusts for the western communities at 50 mph overnight.
Spencer's neighbor across the street said that she heard a noise overnight, came out the to backyard, and found planters overturned. She said she believed they weighed a couple of hundred pounds each with rocks inside. Her fence line was down as well.
A family who lives along 53rd Court North in The Acreage described a tent covering a car as going airborne. Their exterior cameras captured the moment overnight.
"Yeah, the winds were so strong we definitely got woken up," resident Dayana Trujillo said. "We were all awake, then the tent came flying all the way up to this location, and that's the result."
The family also described a tree branch across the road blocking access to the road out.
"One of the branches fell out, a pretty big branch," Trujillo said. "It was actually blocking the whole way. The city came by, picked it up. They helped us with that."
All in all, many residents seemed happy to see the sun peaking out Thursday after the rough weather.
"The winds were just way too strong last night," Trujillo exclaimed. "It was probably worse than the last hurricane we had."
Scripps Only Content 2023