Delray Beach Christmas tree farm tent brought down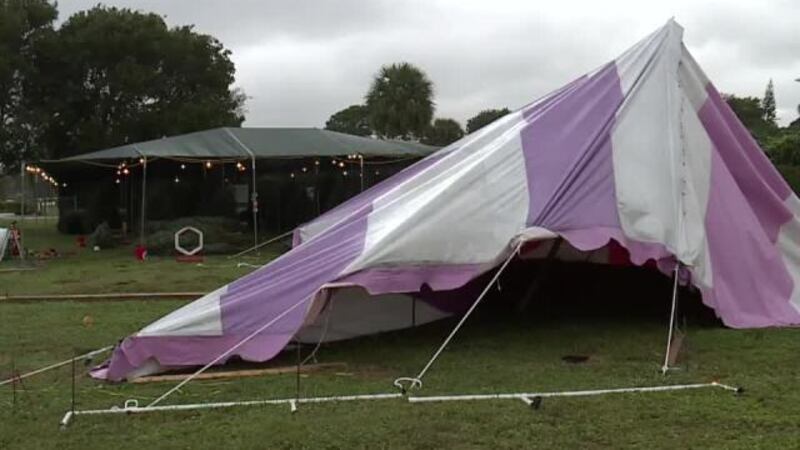 Published: Nov. 16, 2023 at 8:01 PM EST
The powerful winds took down tree branches and tents throughout Palm Beach County, including a Christmas tree farm in Delray Beach.
It is located on the corner of Atlantic Avenue and Homewood Boulevard, just west of Interstate 95 at St. Mary the Virgin Anglican Church.
The Hart-T-Tree Farms is open for business but had a tough start Thursday. Winds overnight took down one of the tents on the property.
Tammie Wommack and her husband operate the tree farm. They've been coming to this spot for 12 years and said this is the first time they've been here for a storm like this. They were asleep in their camper on the property when the wind woke them up overnight. They said the camper was rocking like a boat in the ocean.
"It was very similar to a blizzard-like snowstorm that we were in in North Dakota one year," Wommack said. "The wind is scary because it rocks the camper and you think is it going to roll over."
When they woke up in the morning, they found the tent on the ground.
"My heart was in my stomach. It reminded me for a moment of what it had been like at Mexico Beach when the hurricane came through," Wommack said. "Everything was just in disarray and I thought, 'Oh, no, what are we going to do?'"
Wommack said the weather was a little discouraging, but they were able to rebound.
"It was a little disappointing for us, initially, but we rallied everybody and we'll get the tent back up and we've got our trees ready to go," she said.
The trees just arrived Thursday morning.
"Nothing stops us," Wommack said. "We're Hart-T-Trees strong."
Scripps Only Content 2023