DeSantis campaign puts more focus on Haley following polling bump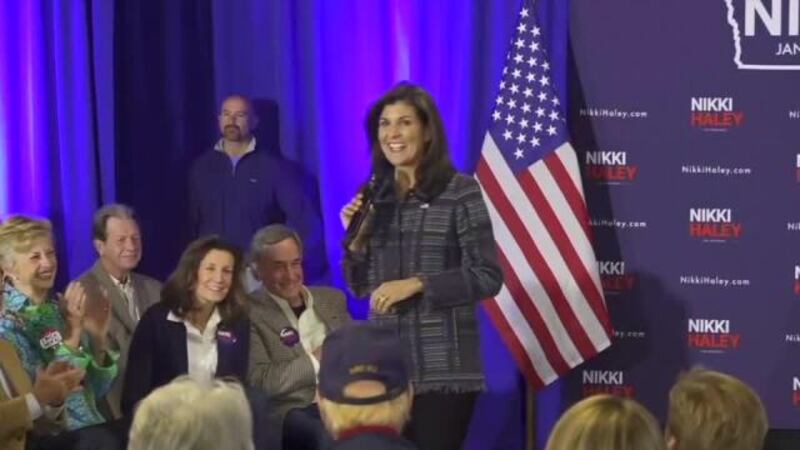 Published: Nov. 17, 2023 at 6:50 PM EST
Gov. Ron DeSantis again traded Florida sunshine for Iowa voters this week.
The governor continued trying to bolster support for his presidential campaign before the first in the nation caucuses, now less than two months away. His campaign continues to say DeSantis is the "clear alternative" to former President Donald Trump, but more and more polls suggest that's not the case.
Hawkeye Hopes
DeSantis returned to the Hawkeye State this week hot off that third GOP debate performance in South Florida. He's pinning success in the primary on a strong performance in the caucuses to regain his footing and show the party that Trump is vulnerable.
The Florida governor has already invested months and millions into Iowa. He's nearly completed his 99-county tour and trying to court everyone with a specific focus this weekend on evangelicals and farmers.
In Sheffield, Iowa, on Friday, he railed against President Joe Biden's economic policies and his administration's support of electric vehicles.
"Here in Iowa, with the renewable fuel, it will hurt farmers here in Iowa if you're forcing everyone to get off liquid fuels," DeSantis said. "The fuel is just more reliable to have than the electric. Where do you get the power to do the electric vehicles?"
But Biden might be the least of DeSantis' worries at the moment. Former United Nations Ambassador Nikki Haley keeps gaining steam following last week's debate in Miami. She's a solid No. 1 in states like New Hampshire, according to new polls, and her campaign has put a renewed focus on Iowa as well
Room for One More?
DeSantis' surrogates, like conservative talk show host Steve Deace, aren't buying that Haley's bump in the poll is real. He and others backing Florida's governor continue to suggest it's a two-person primary between Trump and DeSantis.
When we spoke, Deace noted working on Ted Cruz's 2016 Iowa victory and said the DeSantis' operation is even better.
"Really the entire environment back home in Iowa has changed," Deace said. "It is like a light switch was turned on and people are engaged."
But positive rhetoric aside, the DeSantis campaign looks to be taking no chances on Haley's rise — real or perceived. Officials launched a new website attacking the former South Carolina governor on Friday. The page alleges Haley is everything from "pro-Hillary Clinton" to "pro-corporate welfare."
"Republican voters deserve to know the truth about Haley and her liberal record, which looks more akin to someone competing for the Democrat nomination," the DeSantis campaign said in a news release about the site.
The Bump That Wasn't
DeSantis has had recent wins. He locked up more support from Iowa faith leaders, nabbing 10 former Tim Scott endorsements in South Carolina.
He keeps touting Iowa Gov. Kim Reynolds' recent endorsement of his campaign on the trail.
His supporters predicted a major bump in the polls, but the initial surveys show her backing might have been a wash. An Iowa State/Civiqs poll released Thursday showed little change in Republican support in Iowa. DeSantis and Haley each gained one percentage point. They had 18% and 12%, respectively.
"The basic order of the candidates stayed the same, and it's actually a little surprising because it's been an eventful month in the campaign," Iowa State professor of political science Dave Peterson said. "We've seen several high-profile candidates, former Vice President Mike Pence and South Carolina Sen. Tim Scott drop out. The other big news was Reynolds' endorsement of Ron DeSantis."
Trump, meanwhile, is still ahead with a large lead nationally and state by state. He's expected to get the endorsement of Texas Gov. Greg Abbott, according to CNN.
His supporters, like Florida Rep. Randy Fine, R-Palm Bay, who previously backed DeSantis, dismissed the battle between Haley and Florida's governor — saying it's further proof the race for the nomination is finished.
"I think President Trump is looking forward to the general election," Fine said this week. "I mean this primary is over and so he's thinking about how we beat Joe Biden."
Scripps Only Content 2023