Family displaced, cars stranded after Fellsmere flooding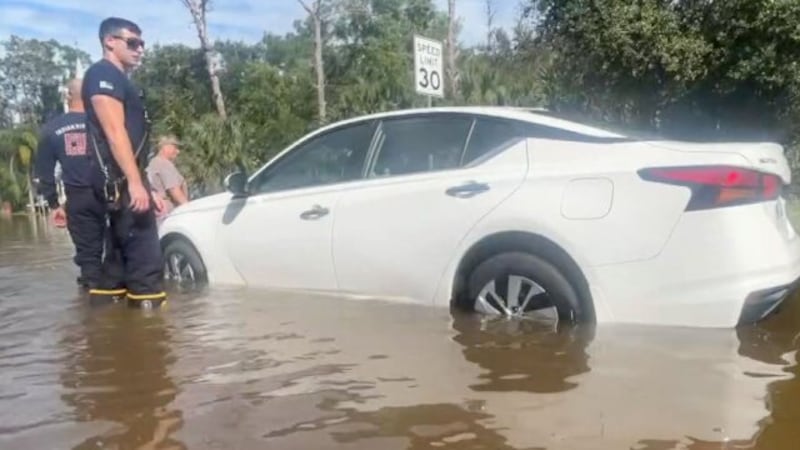 Published: Nov. 17, 2023 at 5:20 PM EST
Fellsmere is still drying out after the WFLX First Alert Weather team estimated that 13 to 14 inches of rain drenched the city in Indian River County on Thursday night into Friday.
Police Chief Keith Touchberry told WFLX that at least one family was displaced from their trailer due to heavy flooding that also filled up their car. He said they have been put in touch with the Salvation Army for assistance.
He also said three cars in the city were stranded because of high water on the road. Crews also responded to a call where about four vehicles were stuck on a street just outside the city.
One of those cars belongs to Mary Deal, who said she came to listen to bluegrass music at the Marsh Landing restaurant along Broadway Street and got stuck.
"I'm going to say there's about 4 to 5 inches [of water in my car], at least from what I can see," Deal said.
Fran Adams, the owner of the restaurant, helped push her vehicle out of flood waters Friday while it still lapped at the steps of her restaurant.
"We're gonna call all our friends and tell them to come fishing, and we'll cook the fish they catch," Adams said.
Adams couldn't open her restaurant Friday and lost a full day of work because of the flooding.
"On a Friday, yeah, but you know, people are losing all kinds of things today," Adams said. "It's the whole city, all the residential areas. Streets are flooded. This was a freaky storm, 13 inches."
Just down the road, near 83rd Street, Nancy Morron's yard is now an island.
"You can literally swim right now," Morron said.
She's one of many residents who almost didn't make it to work because the water still hadn't drained from the city's roads.
"I was so stressed, I was like, 'How am I going to make it out of here?'" Morron said.
Touchberry said students had to be ferried to and from the Boys and Girls Club to get them to the elementary school because of flooding on surrounding roads that lead to school.
WFLX saw parents dropping off their kids and reuniting with them Friday afternoon at the club near City Hall.
Touchberry said, in all, the number of calls that crews responded to was not astronomical, but he did say the city hasn't had that much rain in such a short amount of time outside of a tropical storm or hurricane.
"It just overwhelms your drainage system and floods your roads," Touchberry said.
Scripps Only Content 2023