Person on boat in Martin County injured after strong winds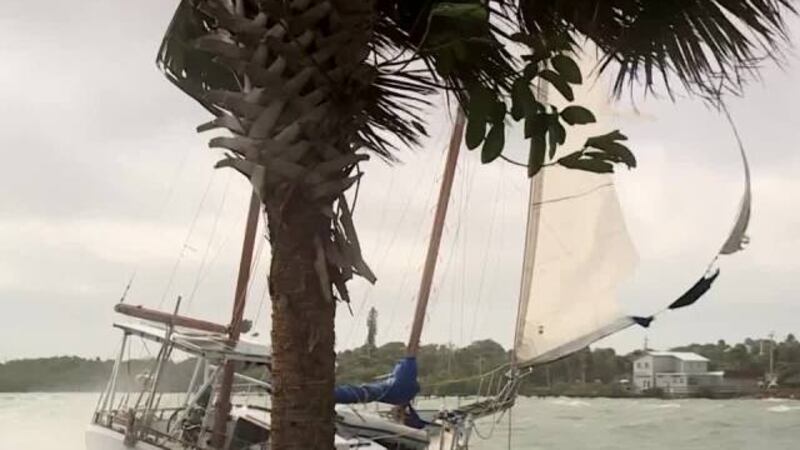 Published: Nov. 16, 2023 at 8:00 PM EST
Strong winds Wednesday night into Thursday injured one person and caused emergency personnel to respond to damage throughout Martin County.
Martin County Fire Rescue said crews responded to a downed tree on MacArthur Boulevard in Stuart and fallen limbs, which resulted in power outages.
Most of those outages were restored before noon Thursday.
In Jensen Beach, the high wind knocked over a lifeguard station and ripped several boats off their tethers near the Jensen Beach Causeway, which sent them careening down the Intracoastal Waterway.
"There's a boat that's in the woods. That's what made me pull over to look," resident Kelly Block said, "and there's another boat that's just beating against the cement and the concrete seawall."
Block was one of many residents who came to watch as boat owners scrambled to secure their vessels. Sea Tow also took to the water, looking for loose craft.
"This is incredible. This is devastating. This is a shock," Block said. "We don't normally have this type of weather this time of year."
Martin County Chief Deputy John Budensiek said deputies counted at least seven vessels that broke loose from their moorings during high winds, even though he said they were tethered correctly.
"But the storm was so strong, and the surf inside of these channels was so strong that defeated all of the mooring buoys and the lines holding them in place," Budensiek said.
He said deputies were able to secure all seven of the boats that broke loose, and six out of the seven owners were coming to get their vessel.
One of the boat owners told WFLX he just bought it a month ago and was thankful he had insurance.
Budensiek said the winds were so strong overnight that a man living on a houseboat needed rescuing.
"Because of the storm and the vessel flipping back and forth, he fell and was injured pretty significantly," Budensiek said.
Budensiek said the man was taken to HCA Florida Lawnwood, where he is believed to be recovering in stable condition.
"I'm just glad everybody's alright, it appears," Bryan Lawrence, who lives on a sailboat with his wife, said.
They live on one of the sailboats that took a beating Thursday, and said they tethered it down and jumped ship right before the storm.
"We live on this little blue Pearson out there. She's hanging in there," Lawrence said as his boat rocked back and forth. "I mean, I'm proud of her. She's hanging in there, she's a tough little boat."
Budensiek said the weather event heightens the need to remove derelict vessels from the water, which is a big problem his marine unit faces.
So far, 12 boats have been removed, and the sheriff's office is in the process of removing four more. Budensiek said that had those 12 vessels been in the water, there could have been even more damage.
Scripps Only Content 2023