2 drivers, pedestrian hurt; parked car struck by pole in crash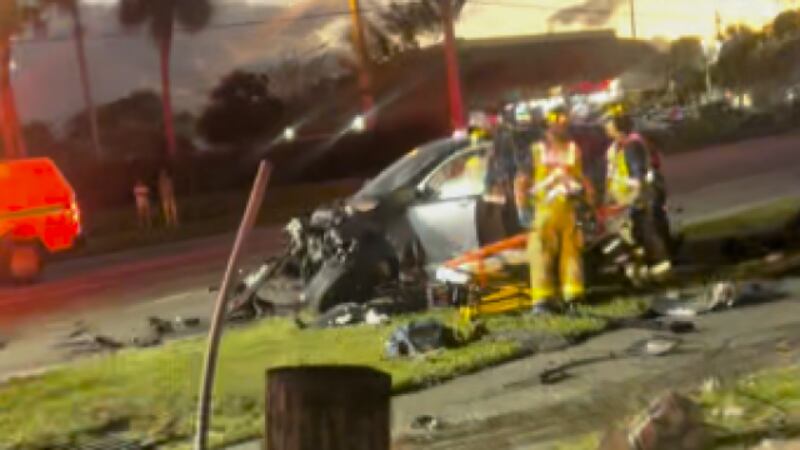 Published: Nov. 18, 2023 at 4:30 PM EST
Two drivers and a pedestrian were injured and a parked car hit by a pole in a crash near the Buttonwood Shopping Plaza on Friday, according to the Palm Beach Country Sheriff's Office Friday afternoon.
PBSO responded to the crash at 5:38 p.m. at 10th Avenue North and Seven Springs Boulevard.
A 2014 Ford Mustang driven by a Palm Springs teen on his 17th birthday was traveling westbound on 10th Avenue North in the outside lane at a high rate of speed, according to PBDO's crash report.
A 2018 Honda CRV driven by a 46-year-old Greenacres man was making a left turn onto Seven Springs Boulevard from 10th Avenue North.
The Ford struck the front passenger fender of the Honda, which went counterclockwise to an uncontrolled stop on the grass shoulder. The Ford was redirected counterclockwise into a cement utility pole, which fell onto a parked 2010 Cadillac CTS.
As the pole fell, an electrical wire struck a 33-year-old man riding a bicycle westbound on the north shoulder of 10th Ave.
The Mustang driver suffered critical injuries with a Honda driver seriously injured and the bicyclist had minor injuries.
Jherry Brown, who owns 561 Loc Lounge hair salon on 10th Avenue North, told WFLX her car was struck by the utiltiy pole. Brown, who submitted video to WFLX, said she had just got out of her Cadillac when the crash occurred.
Scripps Only Content 2023