Flooding is 'most I've seen,' Indian River County residents says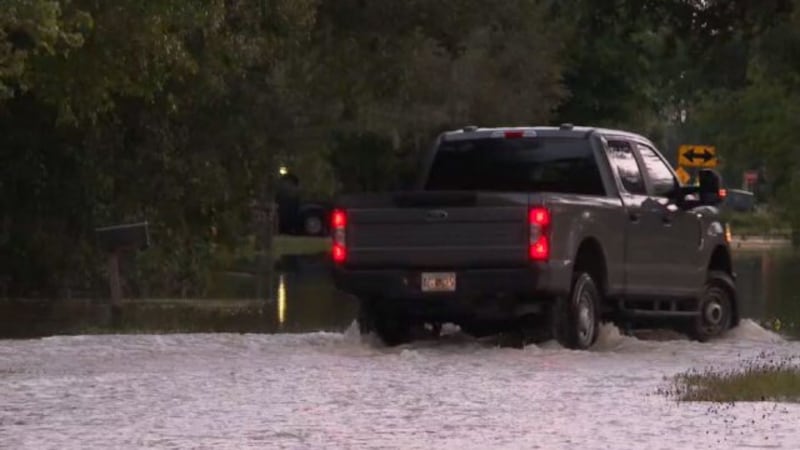 Published: Nov. 17, 2023 at 10:10 PM EST
Neighborhoods in Indian River County continue to dry out after a deluge hit the area Thursday night into early Friday morning.
At 94th Street and 100th Court in Vero Lake Estates, a neighborhood still looked more like a river Friday night.
Unfortunately, Indian River County officials said it's going to take a while for the water to recede.
"My mother had to use my vehicle to get to work because I have a lifted truck, so it leaves one of us not going to work," Vero Lake Estates resident Johnny Tillery said.
Road signs were posted Friday warning drivers to turn around due to flooding.
The water was so deep in some areas that drivers had to reverse their vehicle. It's created quite a headache for those that live in the area.
"I knew I'd probably be able to get off my road, but once I got out onto 87th [Street], I saw like cars stalled out right in the middle of the road, it was pretty bad," Elizabeth Clearwater, a Vero Lake Estates resident said.
The flooded streets were caused by about 13 inches of rainfall.
Clearwater said this area is no stranger to flooding, but this doesn't compare to other rain events.
"We get flooding with storms, but this is the most I've seen," Clearwater said. "We've lived out here since 1994."
WFLX spoke to officials, who said while the water is going down, it likely won't recede until well into the weekend.
Meanwhile, residents said they plan to stay off the roads.
"Yeah we'll be staying in," Clearwater said.
County officials said they'll be keeping a close eye on those water levels and have equipment in the area so they can repair any washed-out roads as they become visible.
Residents said there needs to be a more permanent fix.
"Well, we're kind of used to it with the heavy rains," Tillery said. "I wish they would do something to keep it from getting this bad."
Officials are also asking residents and businesses to help them document the impacts by sending them photos.
Scripps Only Content 2023