Jefferson's 3 TDs help Arkansas past FIU 44-20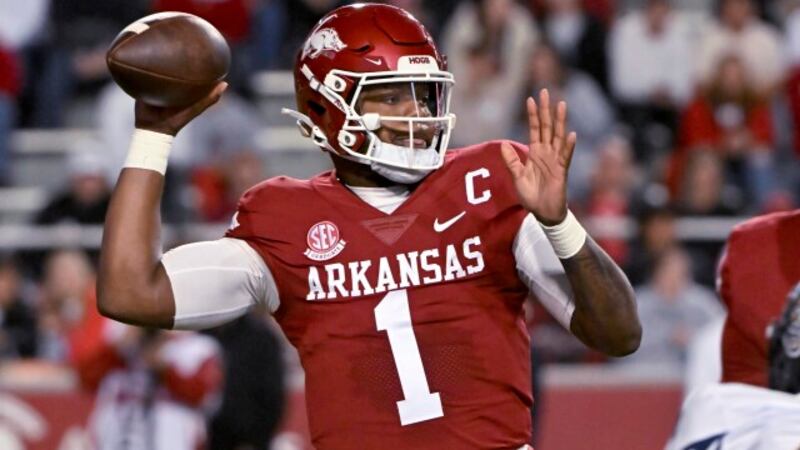 Published: Nov. 18, 2023 at 11:55 PM EST
KJ Jefferson threw three touchdown passes to help Arkansas defeat Florida International 44-20 on Saturday night.
Jefferson passed for 187 yards and ran 15 times for 90 yards. He paced an offense that gained 510 yards, including 323 on the ground.
Isaiah Augustave ran for 101 yards for Arkansas (4-7), which has won two of three after a six-game losing skid that brought questions about coach Sam Pittman's future.
Keyone Jenkins passed for 265 yards and two touchdowns and ran for a score and Kris Mitchell caught six passes for 157 yards and a touchdown for FIU (4-7), which lost its third straight.
Arkansas fell behind early. Jenkins ran for a 1-yard touchdown and threw a 12-yard touchdown pass to Dean Patterson to put FIU up 13-7 late in the first quarter.
Jefferson put the Razorbacks ahead with a 4-yard touchdown pass to Tyrone Broden. The defense got in on the scoring when Alfahiym Walcott returned a fumble 33 yards to give Arkansas a 21-13 lead. A 31-yard touchdown run by Dominique Johnson gave the Razorbacks a 31-13 halftime advantage.
Jefferson threw his third touchdown pass late in the third quarter, a 32-yarder to Isaiah Sategna that put the Razorbacks up 38-20.
Scripps Only Content 2023