Seminoles slip to No. 5 in AP poll after losing quarterback Jordan Travis
Florida State switches spots with Washington, remains No. 4 in coaches poll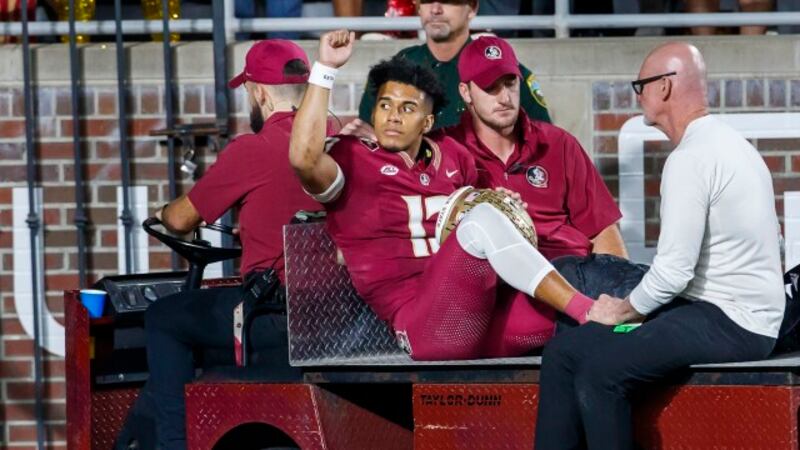 Published: Nov. 19, 2023 at 2:40 PM EST
Florida State lost its quarterback during Saturday's 58-13 win against North Alabama. Now it's lost its place among the top four in The Associated Press poll.
The Seminoles (11-0, 8-0 Atlantic Coast Conference) dropped one spot in Sunday's AP top 25 poll, slipping to No. 5 behind fourth-ranked Washington (11-0, 8-0 Pacific 12 Conference), which had been behind Florida State for the past five weeks.
Florida State trailed 13-0 in its home finale against lower-division North Alabama when starting quarterback Jordan Travis, who once starred for the Benjamin School, was seriously injured while scrambling for a first down.
Travis had an air cast placed on his left leg and was carted off the field. He watched the remainder of the game from his hospital bed as backup Tate Rodemaker led the Seminoles to score 58 unanswered points.
But the devastating injury and slow start – coupled with Washington's 22-20 win at then-No. 10 Oregon State – was enough to convince voters that the Huskies were more deserving of the No. 4 in front of their name. Washington has beaten a ranked opponent each of the past three weeks.
The Seminoles have been ranked in the top 10 all season long and among the top five since their 45-24 victory over LSU in the season opener. They've been ranked No. 4 since Oct. 8.
Florida State is still the No. 4 team behind Washington in the coaches poll.
It remains to be seen whether the College Football Playoff selection committee will demote the Seminoles headed into their regular-season finale at rival Florida. The Seminoles have been No. 4 in every playoff poll this season.
This is the final season of the four-team playoff, which will expand to 12 teams beginning with the 2024 season.
Scripps Only Content 2023