Get ready for quarterbacks Max Brown, Tate Rodemaker when Seminoles visit Gators
Backup QBs likely to lead their teams in rivalry game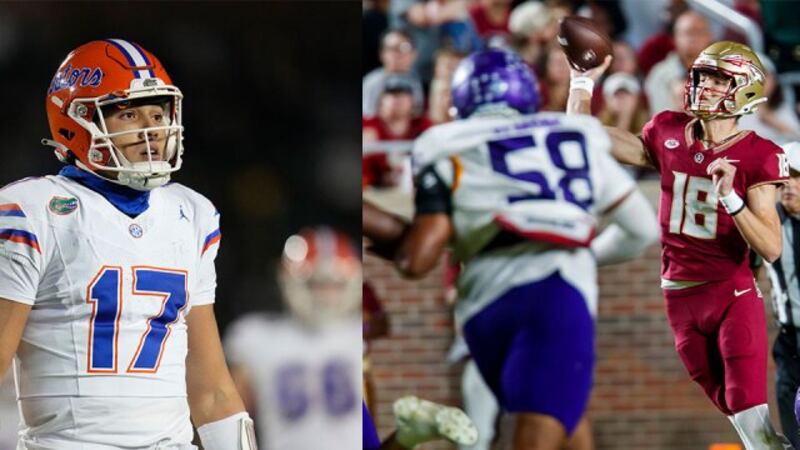 Published: Nov. 20, 2023 at 12:15 AM EST
When No. 5 Florida State travels to Florida for the annual rivalry game on the Saturday after Thanksgiving, both teams will likely take the field with a pair of quarterbacks making their first starts of the season.
Florida State quarterback Jordan Travis, who once starred for the Benjamin School, was seriously injured while scrambling for a first down in the first quarter of the Seminoles' 58-13 victory against lower-division North Alabama.
The severity of the injury to Travis' left leg was apparent to all who watched the television broadcast of the game or saw the pictures as the West Palm Beach native lay on the field in the immediate aftermath.
Travis had an air cast placed on his left leg and was carted off the field. He watched the remainder of the game from his hospital bed as backup Tate Rodemaker led the Seminoles (11-0, 8-0 Atlantic Coast Conference) to victory.
Rodemaker completed 13 of 23 passes for a career-high 217 yards and two touchdowns.
Although Florida State head coach Mike Norvell doesn't publicly discuss player injuries, he did say during a halftime interview that "obviously it didn't look good."
Not long after Travis' injury, Florida quarterback Graham Mertz exited the Gators' game at No. 11 Missouri late in the third quarter with a non-displaced collarbone fracture.
He was replaced by redshirt freshman Max Brown, who completed four of five passes for 56 yards and gained 42 yards of seven carries in Florida's 33-31 loss.
"He'll be out for a little bit," Gators head coach Billy Napier said after the game. "We'll have more information whether it's surgical or not. I think right now the belief is it may not be, but we'll need to get more images before we make that decision."
So, instead of Travis vs. Mertz, fans of both teams should brace for Rodemaker vs. Brown. Rodemaker would be making his first start since a losing effort against Jacksonville State in 2020, while Brown would be making his starting debut with state bragging rights on the line.
Florida State won last year's game in a 45-38 shootout in Tallahassee. Travis was a big reason why, completing 13 of 30 passes for 270 yards and a touchdown while also rushing for 83 yards and two scores.
Rodemaker saw significant playing time after an injury to Travis at Louisville last season, orchestrating a second-half comeback that culminated with a game-winning 2-yard scoring toss on 3rd-and-goal with 7:54 remaining.
The fourth-year junior has thrown for 767 yards and seven touchdowns in his career, including a career-high 376 yards and five touchdowns so far this season.
Meanwhile, Brown has seen limited action for the Gators this season, completing 10 of 12 passes for 106 yards. If he can help the Gators to spoil the Seminoles' championship aspirations, Brown could endear himself to Florida fans for years to come. On the other hand, the Gators (5-6, 3-5 Southeastern Conference) need a win to become bowl-eligible, so a poor performance would have Florida fans clamoring Mertz's return in 2024.
Either way, the game just got a bit more interesting for Gators and Seminoles alike.
Scripps Only Content 2023