Thanksgiving lunch serves more than 300 homeless people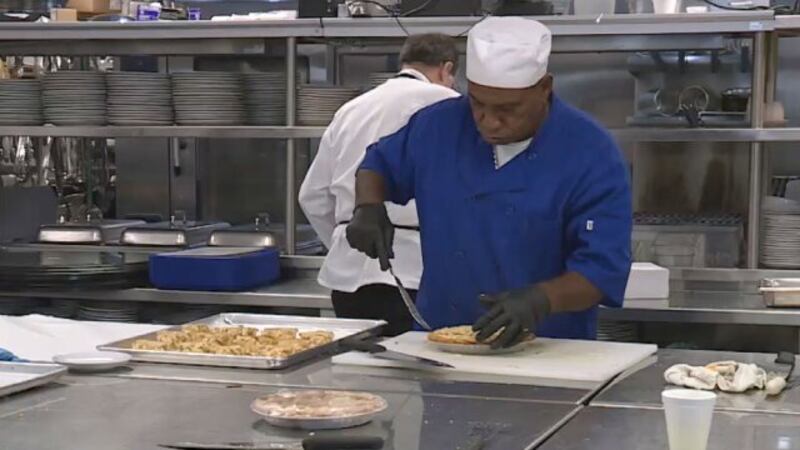 Published: Nov. 21, 2023 at 12:40 PM EST
A special Thanksgiving celebration is a full-circle moment for people who used to be homeless in our area.
The Lord's Place in West Palm Beach hosted a Thanksgiving lunch on Tuesday for more than 300 people experiencing homelessness right now.
The meal was carefully put together by 10 people who used to be homeless themselves.
The hot meal was served up at Café Joshua inside the Lord's Place, located along Australian Avenue.
Chef James Collins said each plate of food that the guests receive weighs about a pound and has every part of what makes a Thanksgiving meal special.
"This is what it's all about," Collins said. "I've been in the business for about 40 years, never been in a situation to give back like this. I have a fantastic team behind me, supporting me. As we're doing this, they're creating wonderful food. There aren't many people in the world that get to be in this situation — providing substance, providing love, providing care, providing dignity."
Craig Griffin is one of the 10 apprentices cooking the meals. It's a full-circle moment for him to be able to cook and feed people in need.
"I was homeless, and I didn't have anywhere to go," Griffin said. "They opened up doors for me as well as a whole lot of other gentlemen and ladies. I highly appreciate it for all the things that they did for me and others."
Another 53 meals will be packed and delivered to folks living in the Lord's Place's Operation Home Ready apartments.
Each of their housing campuses will hold its own Thanksgiving celebrations throughout the week.
Scripps Only Content 2023