Joshua James: Jupiter man's parents say gator tossed into Wendy's was 'stupid prank'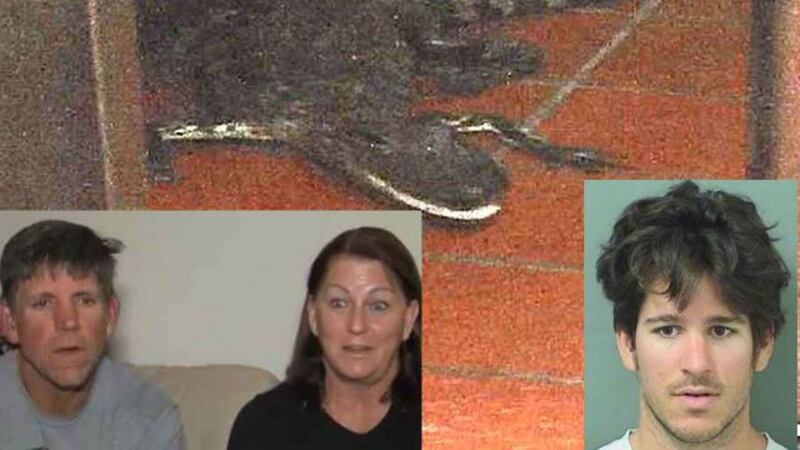 Updated: Feb. 9, 2016 at 2:14 PM EST
JUPITER, Fla. - The parents of a 24-year-old Jupiter man are speaking about the arrest of their son after he was accused of tossing an alligator through the window of a fast-food restaurant.
According to Florida Fish and Wildlife officers, Josh James picked up a 3.5-foot alligator from the side of the road in October and put it in his pick-up truck.
He proceeded to the window of a Wendy's drive-thru in Royal Palm Beach where FWC said he slung the gator into the restaurant.
But according to his parents, James is a prankster who meant no harm.
"It was just a stupid prank that he did that's now turning into this.  He's a prankster.  He does stuff like this because he thinks it's funny," said mother Linda James.
Ed and Linda James said their son is harmless, but he's sitting in jail facing serious charges.
The charge against him is assault with a deadly weapon with intent to do less than murder.
"I don't even get that. I don't get it," said Linda James referring to the charge.
The suspect's parents said they are still waiting to get the details from their son directly, but they said he knew one of the employees working at this Wendy's.
"It was somebody at Wendy's that they were pranking," said Linda James.
"Do you think the people at Wendy's thought it was a prank?" asked WPTV reporter Jared Werksma.
"Well, I mean, how could you not think something like that was a prank," said Linda James.
Wendy's has not released comment any comment on the incident.
FWC used a credit card receipt for a soda that Josh James purchased and tracked him down.
"They said, 'Will he cooperate?' And I said, 'Absolutely, he's a stupid kid. He did a stupid prank.' He had no problem with turning himself in," said James.
"You're saying that he is not a violent person?" asked Werksma.
"Absolutely not. It's just a stupid prank," said Linda James.
The alligator was safely transported back into the wild.
James did not have a criminal history before this arrest and remain jailed Monday night.
Copyright 2016 Scripps Media, Inc. All rights reserved. This material may not be published, broadcast, rewritten, or redistributed.