Local woman tracks poisonous toads to save pets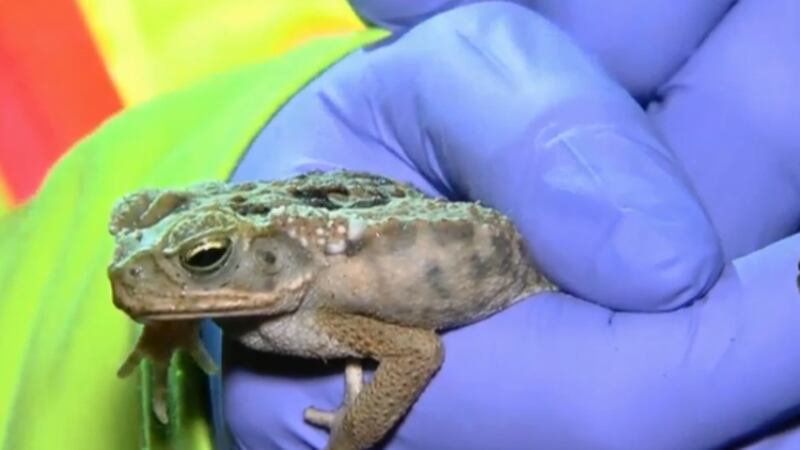 Updated: Jun. 6, 2018 at 4:33 AM EDT
They are not just noisy and keeping you awake at night. They are deadly.
Bufo toads are out in numbers due to recent heavy rainfall. Just brief contact between the invasive species and your pets can turn deadly.
But, that's where Jeannine Tilford steps in.
She started her unique company, Toad Busters, after working as a veterinarian tech for years. She saw pets suffering after coming into contact with the toads -- not all pets could be saved.
"When I'd have people bring their pets in for the emergency center, I'd charge them $1,000 and think, 'Well, your dog is going to go bite another toad again,' and nobody was out there to help them," Tilford said.
So, she decided to focus her business on tracking and capturing invasive toads, even those like Cuban tree frogs, which can present their own environmental threats.
Monday night, Tilford was hired to check a property in Jupiter Farms for Bufo Toads for a homeowner with several dogs.
"Looking for toads, looking for eye balls ... I'm always checking by the trees," Tilford explained. She also checks bushes, pools, fencing and areas with standing water.
They're not always easy to spot, but Tilford managed to find and capture nearly a dozen different toads. Some nights, she'll capture more than 100 on a single property.
"Even a small sized toad can produce a lot of toxin," Tilford said.
She showed us where their glands, near their heads, expel a white, toxic material which can cause pets to go into convulsions and seizures, and within minutes, potentially die if they are not given quick treatment.
"It's not their fault. They were brought in here, and they are just protecting themselves," Tilford said.
Tilford's focus then moves toward humanely disposing of the Bufo toads.
Once captured, she will put Benzocaine on their bellies.
"Then they fall asleep and we put them in a plastic bag and they go in the freezer for about 48 hours and then they can be disposed of," Tilford said.
In just a month, she said she has captured more than 1,000 poisonous toads. With the rainy season in full swing, she expects to continue having successful hunts as they continue to breed.
"Whether I'm doing this to help balance out nature, and help you, that's great, but I'd like to do it in a humane way."
She is also licensed by the Florida Fish and Wildlife Conservation Commission to capture the toads and teaches pet owners how to react if their dogs come into contact with a poisonous toad.
If you're not in a position to hire a professional but want to keep toads away from your property, Tilford says there are some things you can do:
Pick up pet waste, which attracts toads.

Do not leave pet food out side, which can also attract the toads.

Eliminate standing water

If you're comfortable handling the toads, gloves are recommended.

Apply Orajel to the belly of the Bufo toad, which puts it to sleep. Then, place in a plastic bag and put in the freezer for 48 hours.
It is illegal to capture and relocate Bufo Toads, as they are an invasive species.
Scripps Only Content 2018